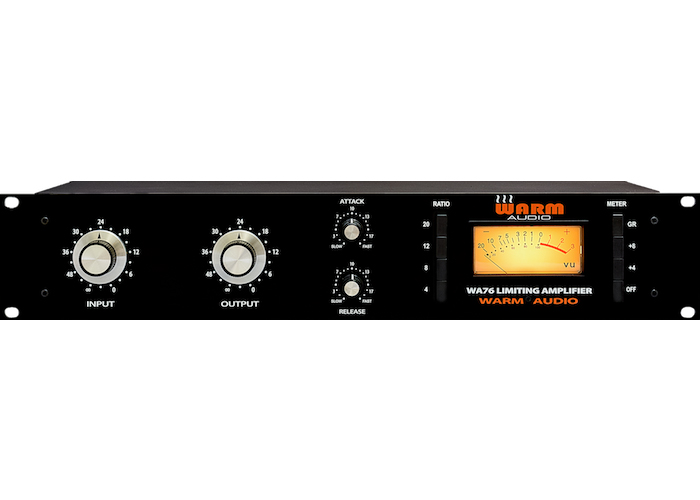 WA76: An Affordable 1176
Warm Audio has just announced their take on the classic 1176-style compressor at an amazing price point when compared to other options currently on the market. For roughly $600 USD, you can now have a hardware limiting amplifier similar to the one used by professionals for decades. While details on the product are still new, and the expected ship date still isn't until Spring 2014, you can check out some of the specifications below in the official WA76 product description. Keep an eye out on DigitalRecordingArts.com for the latest updates on the WA76.
The WA76 Limiting Amplifier is a modern reproduction of the Classic 1176 Revision D. Every effort was made to remain faithful to the original designs including the use of Reichenbach Engineering's (now CineMag) transformer designs that were used in the original. The classic 1176 was a major breakthrough in limiter technology – the first true peak limiter with all transistor circuitry offering superior performance with a signature sound – and set the standard for all limiters to follow. The ultra-fast attack time and trademark sound have lured legendary artists and studio moguls alike to the 1176 – Peter Frampton, Joe Satriani, Joe Chiccarelli, Vance Powell, and Mike Elizondo are just a few names on a list that's continued to grow, for nearly 50 years.
True to the Classic 1176 compressor in design and performance
Completely discrete signal path
Modeled after the D revision
Utilizes USA made CINEMAG input and output transformers
Supports the famous "all buttons in" ratio setting
Ultra fast attack time
Class A line level output amplifier
Input impedance – 600 ohms, bridges-T control (floating)
Frequency Response +/- 1 dB 20 Hz to 20kHz
XLR and TRS inputs. XLR and TRS outputs
55db of gain
Less than 0.4% total harmonic distortion from 50 Hz to 20 kHz with limiting
Signal to noise ration is greater than 74 dB at +25 dBm
EIN -104.1 dbm
Attack time, 20 microseconds to 800 microseconds
Release time, 50 milliseconds to 1 second
Meter provides dB gain reduction and dB output
Internal power supply, external 24v AC power transformer
19″ Rackmount chassis, 2U
1-year warranty
Warm Audio has done it again; the WA76 delivers the classic FET compressor "warmth" your tracks crave. Loaded with Cinemag transformers for both the input and output stage, tantalum caps, and classic control settings (including all button in mode), the WA76 gives you the tools you need to give pull your vocal tracks to the front of the mix, add a little more crunch to your guitars, and give your room mics the appropriate amount of SQUASH.
Specifications:
CiniMag's In and Out
Revision D 1176 Replica
Brushed Anodized Aluminum Black
XLR and TRS Input
XLR and TRS Output
---
All information taken from the official Warm Audio press release.