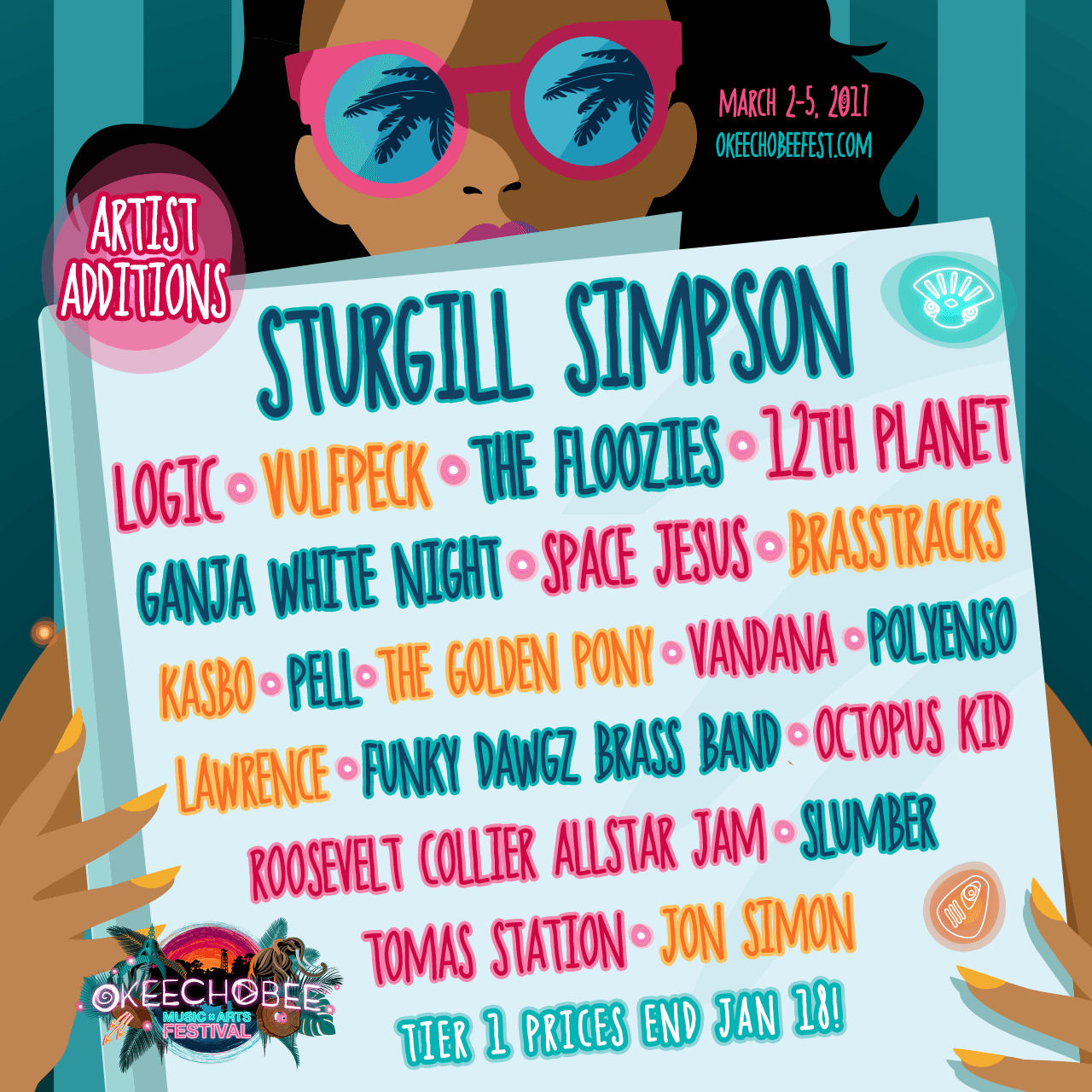 Okeechobee, FL (January 12, 2017) – Soundslinger is excited to announce additions to the lineup for the upcoming 2017 Okeechobee Music & Arts Festival, a diverse, multi-genre event celebrating the start of spring with world renowned and on the rise performers, art installations to inspire with awe, yoga and meditation to cleanse the soul, great food, and friends new and old to enjoy it all with.
Announced today, and keeping with the festival's committed pursuit to push the boundaries of genre and surprises in programming, OMF 17 has added Grammy-nominated country artist Sturgill Simpson to its already impressive lineup. Other additions include Logic, funk outfit Vulfpeck, electronic-funk duo The Floozies, 12th Planet, Ganja White Night, Space Jesus, Brasstracks, Gothenburg, Sweden-based future bass artist Kasbo, Pell, The Golden Pony, Vandana, Polyenso, Funky Dawgz Brass Band, Octopus Kid, Roosevelt Collier Allstar Jam, Slumber, Tomas Station, Jon Simon and many more.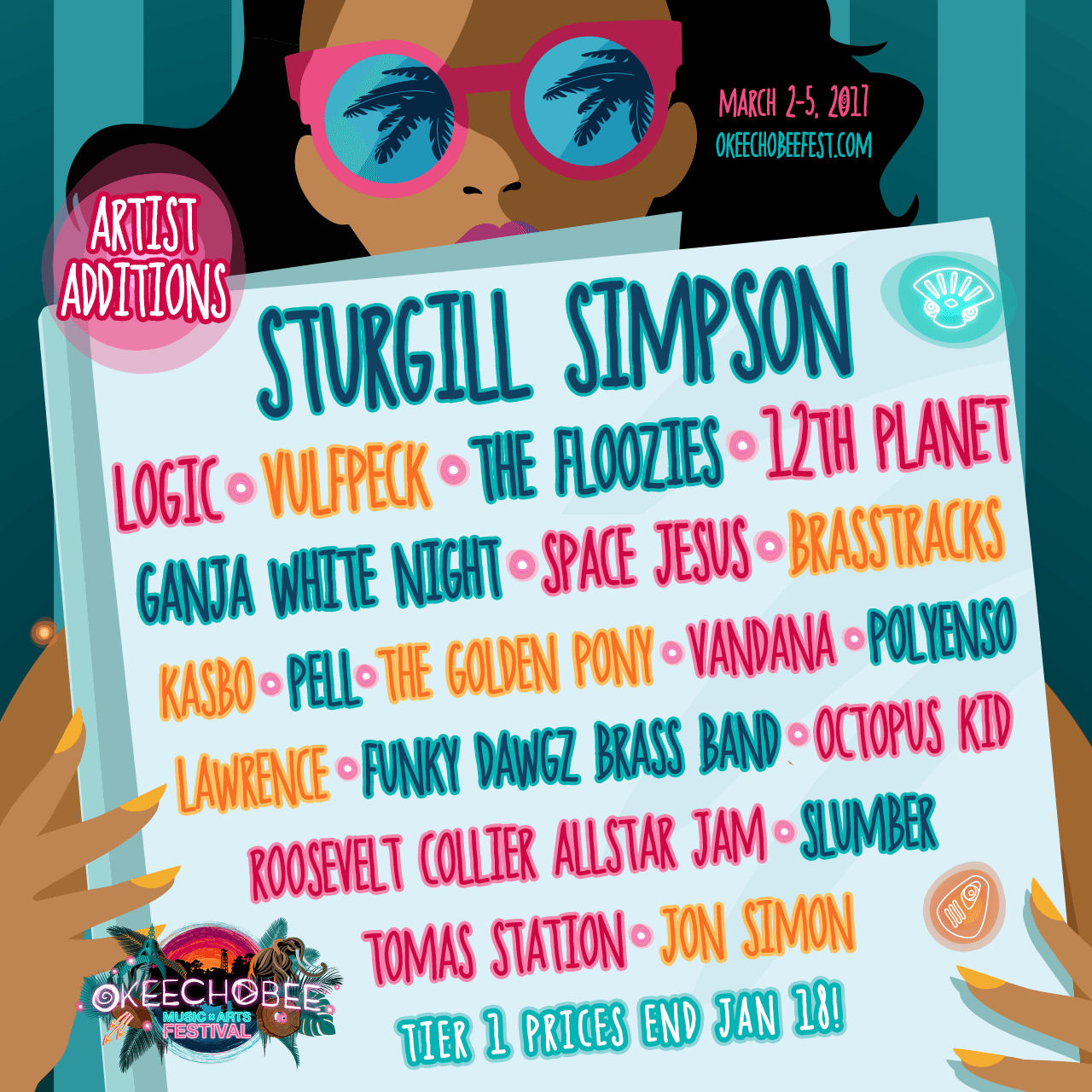 Today's lineup addition rounds out an an exciting list of already-announced names which include Kings of Leon, Usher & The Roots, Bassnectar, The Lumineers, Flume, Wiz Khalifa, Pretty Lights, Solange, Rae Sremmurd, Young The Giant, Porter Robinson (Live), Anderson .Paak & The Free Nationals, and many more.
The second annual edition of North America's most exciting new festival will take place from Thursday, March 2nd through Sunday, March 5th at Okeechobee, Florida's beautiful Sunshine Grove, located on over 600 acres of pristine grasslands, clear lakes, and exotic tropical woodlands.
With Early Bird festival tickets completely sold out, limited General Admission tickets are now available at the Tier 1 price via OkeechobeeFest.com for a limited time. Tickets will go up in price on January 18th at 11:59pm EST. Full Lineup: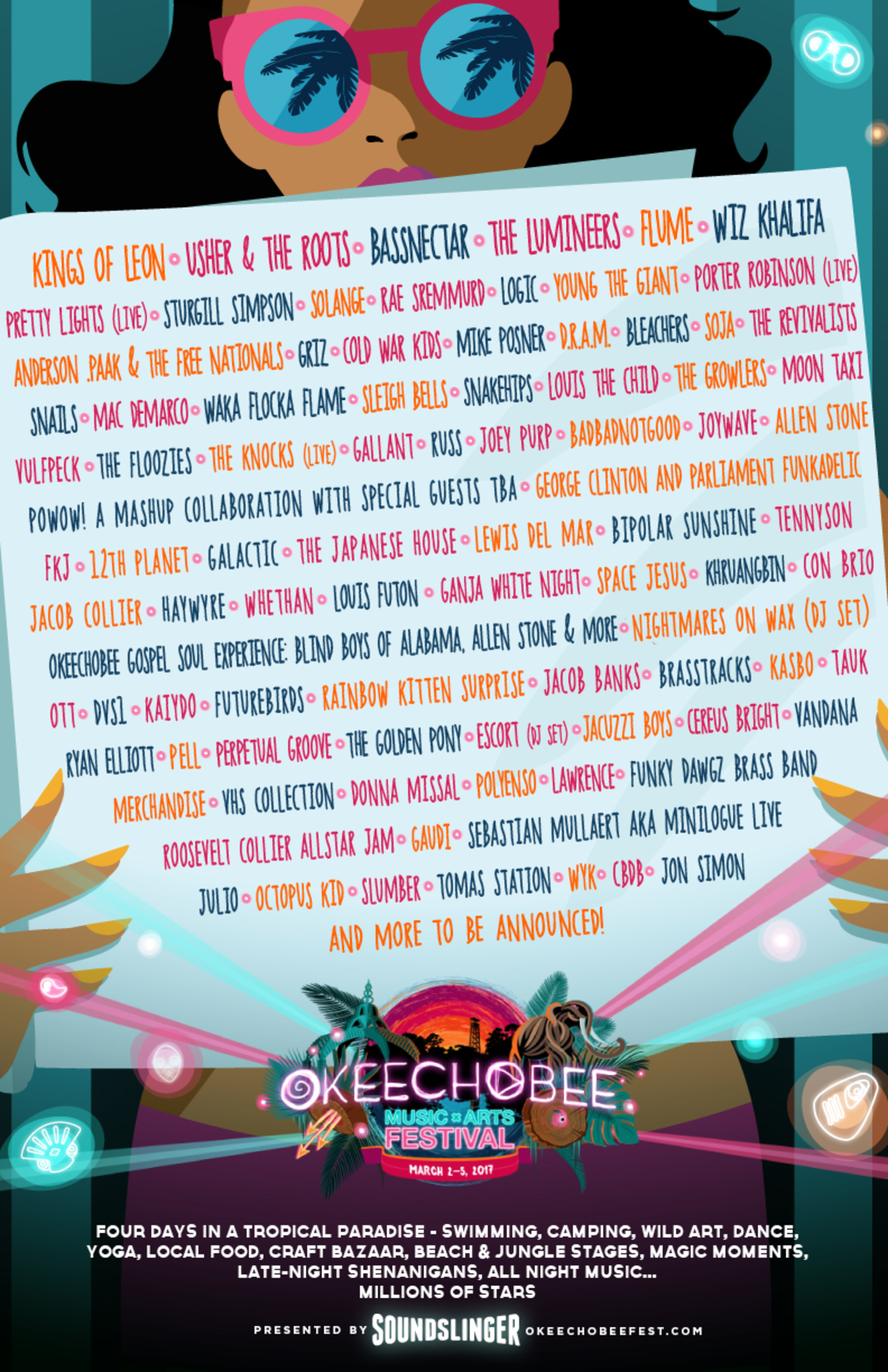 Visit OkeechobeeFest.com for complete ticketing details and payment plan options.
It is quite a challenge to stand out in today's festival landscape, but with the inaugural event this past spring, the Okeechobee Music & Arts Festival did just that and more. From legendary performances at the first ever PoWoW! (featuring Arcade Fire's Win Butler, Miguel, Hall & Oates' John Oates, Mumford & Sons, Skrillex, Mac Miller, Preservation Hall Jazz Band and more), to signature venues like the lakeside sandy beach of Aquachobee, and the otherworldly confines of Jungle 51 hidden within a forest of luminescent trees, Okeechobee wowed a sold-out gathering of open-minded music fans with a weekend worthy of its position as the first major event of the music festival season.
Watch the Okeechobee 2016 After Movie
"We are excited to build upon the success of OMF 16. This year's lineup is great and we have more surprises to come. We are opening up more of our amazing property for people to explore, and continuing to invest in art and the overall festival experience. Can't wait to open the doors on March 2nd!"
– Kevin Collinsworth (Soundslinger CEO)
In addition to continuously improving the festival operations, logistics & overall fan experience, an ongoing endeavor of the Okeechobee Music & Arts Festival is to do everything possible to respect and cherish the natural beauty of the festival site, the surrounding area, and the earth as a whole. Each year the festival will make progress towards the eventual goal of being a carbon neutral event while utilizing as many biodegradable, repurposed, recycled & sustainable materials as possible.
4-Day GA Passes for the festival include parking, tent camping, and access to all four days of the festival. Fans can make the most out of their weekend with the Eternal Sunshine VIP Experience, a variety of Tent and RV Rental options, the Eternal Sunshine VIP Boutique Camping Experience, or a Super VIP Luxury Tour Bus package called The Grand Kachobee. These ticket and lodging packages are customized to give each fan an experience that they will never forget. Detailed information is available on the website.
For tickets and information, go to www.okeechobeefest.com.