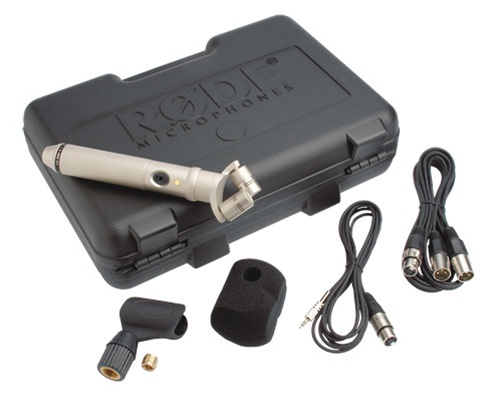 The team at Røde Microphones have outdone themselves with the NT4, a fixed X/Y stereo condenser mic featuring two 1/2″ cardioid capsules. For less than what most manufacturers charge for a single cardioid condenser microphone, the NT4 is capable of capturing clean, bright sound, whether it's music or backgrounds/ambience for film. The NT4′s fixed microphones always ensure that your recordings are perfectly 90 degrees out of phase, giving you a full sounding recording every time.
Convenience
The accessories that come stock with the NT4 really make a complete package for both field and studio work. There are two cables that work with the microphone's 5-pin output. The first is ideal for portable field recorders and those recording directly to their camera's audio input – a 3.5 mm TRS cable. For those requiring an XLR, a dual-XLR cable also comes with the NT4. The rugged case is able to hold both cables, the microphone, the microphone clip, and a windscreen that was custom-designed to protect both capsules in a single piece of foam. As seems to be a growing trend with all Røde products, everything needed for an ideal recording is included with the purchase of the mic.
Ambiences
There have always been two huge issues for me when it comes to recording outdoor ambience and room tone: getting an accurate stereo image and carrying around two large microphones, each with a dead cat on them for a clear recording. The NT4 solves both of those problems, and I wouldn't be worried about getting it damaged in the process.  Both capsules are completely interchangeable with the Røde NT45-C, the same capsules used in the NT5, NT55, and NT6. The NT4 can be powered from a 9v battery if phantom power isn't available with whatever medium you're recording with. The wind shield works wonders without adding all the extra weight required by other microphones, which is huge when spending hours capturing sounds outdoors.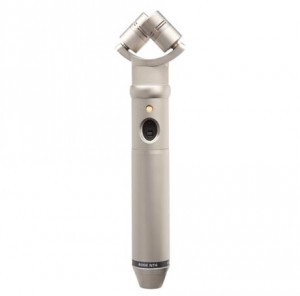 Studio Application
There are certainly more uses for the NT4 in a studio environment than we'll discuss here, but some of my favorite uses are acoustic guitars and drum overheads. My drum preference should come as no surprise after my comments on field recording. A clean stereo image is one of my biggest issues with most recordings, because when it isn't done right your stereo recording will either have cancellation or collapse to one side. The easiest way to get a rich sounding song, especially in headphones, is a good recording to start from. A fixed X/Y is one of the easiest ways to capture this. For acoustic guitars, the placement of the capsules is just right for getting the whole body tone as well as the string noise on the fretboard. Depending on the style you're going for, the string noise can add an entirely new element to your mix that you might otherwise lose with other miking techniques. The same kind of added tone would likely be achieved when using an NT4 with other various string instruments.
Conclusion
No other microphones in this mic's price range can claim the perfection found in the NT4. Investing in stands that "attempt" to make a perfect X/Y (or even pulling out your protractor) won't likely match the accuracy of the NT4, and they certainly won't be set up as quickly. As with every microphone from Røde, the NT4 comes with a 10 year warranty. This microphone is definitely worth checking out, even if you've got a "go-to" microphone for everything mentioned above. Between ease of use and affordability, the NT4 could just replace microphones that cost 3x its value.
---
For more microphone reviews, subscribe to our newsletter: