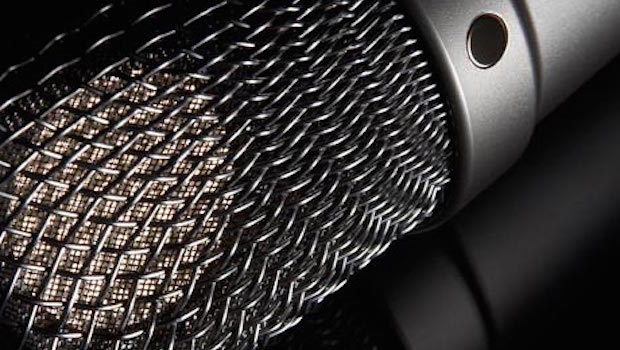 Røde proudly boasts its NT1-A cardioid condenser microphone to be the quietest studio microphone available, which is hard to argue against when the unit only creates 5dBA of self noise. The NT1-A is one of the most transparent sounding microphones on the market, making it the perfect tool for home recording artists and major studios alike to have in their mic lockers. This microphone is a key to keeping the most realistic sound to your voice or instrument, allowing you to tweak your sounds to perfection later, or keep everything natural and untouched to create an intimate listening experience.
What's in the Box?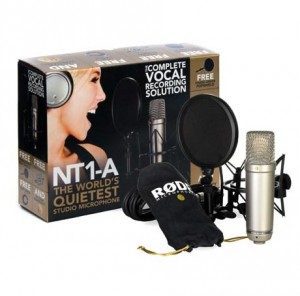 For those just getting into recording, the Røde NT1-A comes packaged with everything you need to start recording other than the mic stand and an interface. With a 20′ XLR cable, there's plenty of length to cover the distance between the mic and interface/mic panel in almost any situation. There's also a shock mount included with the microphone, that provides plenty of separation from the mic stand and has a built in pop filter to prevent transient pops in your vocal recording. These accessories can get expensive with other companies, especially with some shock mounts costing $100+. Røde really makes it easy for their customers to get everything they need in one conveniently priced package. In addition to what's already mentioned,  the NT1-A includes a dust cover for better storage and to keep out the dust that can pack in your microphones capsule, deadening your sound over time. Finally, there is a DVD included with the package giving beginners some tips to get the best sounding recording out of their microphone.
Sound/Specs

The NT1-A is truly a crystalline sounding microphone, capturing a clear sounding recording of virtually everything we threw at it. With such low self-noise, every breath taken during vocal recording was caught by the microphone with haunting brilliance. The NT1-A's capsule (1″ diameter) has its own shock mount within the unit, stopping any vibrations resonating with the body of the mic from muddying up your sound. The microphones frequency response is relatively flat, with a slight boost around 3kHz adding a brighter sounding clarity to your recording. The microphone's cardioid polar pattern spreads very evenly throughout all frequencies, making an exceptionally flat recording when addressed straight on. You shouldn't have any issues miking most instruments upfront and head-on with the NT1-A with a Maximum SPL of 137dB, aside from maybe a really heavy-footed drummer's kick or directly in front of the horn of a brass instrument. Should anything happen to your microphone, Røde guarantees its microphone's continued quality with a 10 year warranty.
Application
In our experience with the NT1-A, we found that it shines it's brightest when recording acoustic instruments. Acoustic guitars, mandolins, and hand-percussion all get picked up great utilizing an NT1-A. The harmonics from a finger-picked acoustic guitar were beautifully captured, resonating almost ethereally and cut it's own space in the mix. Vocally, this mic stands up to microphones more than 4 times its price. For a clean female vocal, I really enjoyed the quality captured by the NT1-A, both with and without a tube preamp. I did feel that for some male vocals were too bright without running the signal through a tube preamp or EQing, but that opinion is the same across many other large diaphragm condenser microphones. In the price range of the NT1-A, a truer sound can't be captured by Røde's competition. Even if you have a huge collection of microphones already, it wouldn't be complete without the clean sound of an NT1-A in your sound palette.
Like our NT1-A review? Check out our other Røde content.