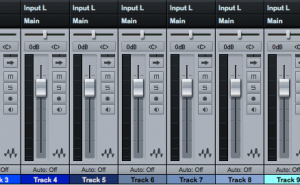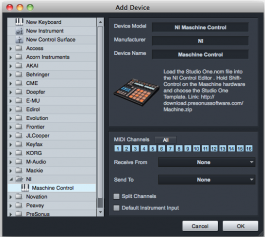 PreSonus has slowly been making it's way into the digital audio workstation (DAW) market for several years now, releasing the first incarnation of Studio One in 2009. With this new release of the software, more features than ever are filling out the interior of the software to make a great, competitive product in the cluttered digital realm of music creation.When you pair that with PreSonus' inexpensive recording interfaces and outboard gear, you get one of the most professional studio setups at a quarter of the cost of it's competition.
Seamless Hardware Integration
One of the most tedious tasks with any DAW is setting up your I/Os, Controllers, MIDI devices, and just about anything else that can be software controlled. Within Studio One's Home Page, everything can be easily accessed. The main Interface is loaded, with an image of the unit to avoid any confusion. Below it, you have the option to configure both audio and external devices, which brings you right to an options menu with an Add Device button, which contains dozens of manufacturer's products already loaded to be fully operational with Studio One. Should your controller or keyboard not appear on the list, you are able to create a new one and store it for future use. Using Studio One's intuitive configuration tools is as close as it gets to plug-and-play functionality.
Celemony Melodyne Essential & NI Komplete Elements Inclusion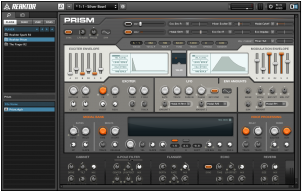 Two new softwares being packaged with Studio One 2 Professional (Komplete Elements is also included with Producer) package add a huge bang for your buck. Celemony's Melodyne editor has been an industry standard pitch correction software, proving a piano roll interface for your audio tracks and allowing changes to pitch, timing, timbre and more. For Studio One, Melodyne Essentials is included for pitch, timing, and a few other editing options (although the full version will work within the DAW too.) Studio One is the first DAW to utilize the Audio Random Access (ARA) feature developed by Celemony. ARA allows the Melodyne software to edit audio in real time, that is, without transferring the audio like all other DAWs currently require. Native Instruments Komplete Elements gives you the core players used, along with a huge sample library (over 1,00 sounds) to choose from. Both of these company's additions join an already huge plug-in family provided by PreSonus, which includes some of the greatest reverbs we've ever heard.
The Look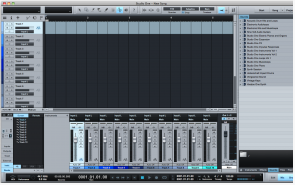 Users of Apple's Logic software will quickly adapt to the look and feel of Studio One. I don't know if it's the calming blue theme that makes me say this or not, but it really is simple to navigate. The left side of your screen sorts your tracks, all navigation controls are at the bottom, and a very clean looking library is on the right. The edit, mix, and browser sections can all be toggled from the bottom right corner, and all of the editing tools are across the top. The greatest part of such an organized software is that the learning curve virtually disappears. Everything is available to you without needing to learn quick keys (though they help make things faster) and without needing to search through menus for each operation.
Audio Post-Production Capabilities
Most DAWs try to steer clear of working with video, leaving it for video editing software or the major audio editor for film, Pro Tools. Studio One's video capabilities make it a great resource for those looking to get into film sound without shelling out thousands for a Pro Tools HD rig. Previously, HD software was necessary to accompany all of the tracks required to work with a major film or video composition. Now, while you computer will still need to be top notch to handle a ton of tracks, your software will no longer limit you in that sense.
Soundcloud
While PreSonus isn't the only company to include Soundcloud capabilities with their software, it is certainly helping make music creation something more home-studio friendly. Rather than trying to get a whole album finished before releasing material, musicians are able to upload straight from Studio One to Soundcloud, where it can be shared with followers on the site and other social networks like Twitter & Facebook. This could potentially be a revolution in the music industry, or just a passing phase of a way to share content, but PreSonus has made sure they are among the frontline of promoting new media. Unique to Studio One is the way in which it interacts with Soundcloud. It is the only DAW that allows you to access your files and the tracks of those you're following from the Browser. This means that you can access Soundcloud tracks from anywhere in the application, be it project or song page. Then, just drag the tracks you need into your session and the file will be downloaded automatically off the server.
PreSonus Exchange
The Exchange is the newest addition to Studio One, coming into the software with the 2.0.4 update and promises to be a place for creators to collect and collaborate online. Exchange allows users to upload samples, presets, and several other Studio One assets. Others can then go in and download these assets, tweak them, and learn from them. Just like with Soundcloud, all of this can be accessed from the Browser. While the community is not very extensive yet, those who have joined in are a huge resource of knowledge and techniques. Hopefully as the software continues to grow and word of mouth spreads, Exchange will grow with the Studio One user family.
While Studio One still doesn't have the mass amount of users found with several other softwares, it is truly one of the most streamlined DAWs I've worked with. Hopefully the low price and continuous introductory offers will convince users to test it out and see how simple it is. You can find out more by visiting PreSonus' Studio One website, or download your free trial copy of the software now at: http://studioone.presonus.com/demo-request/