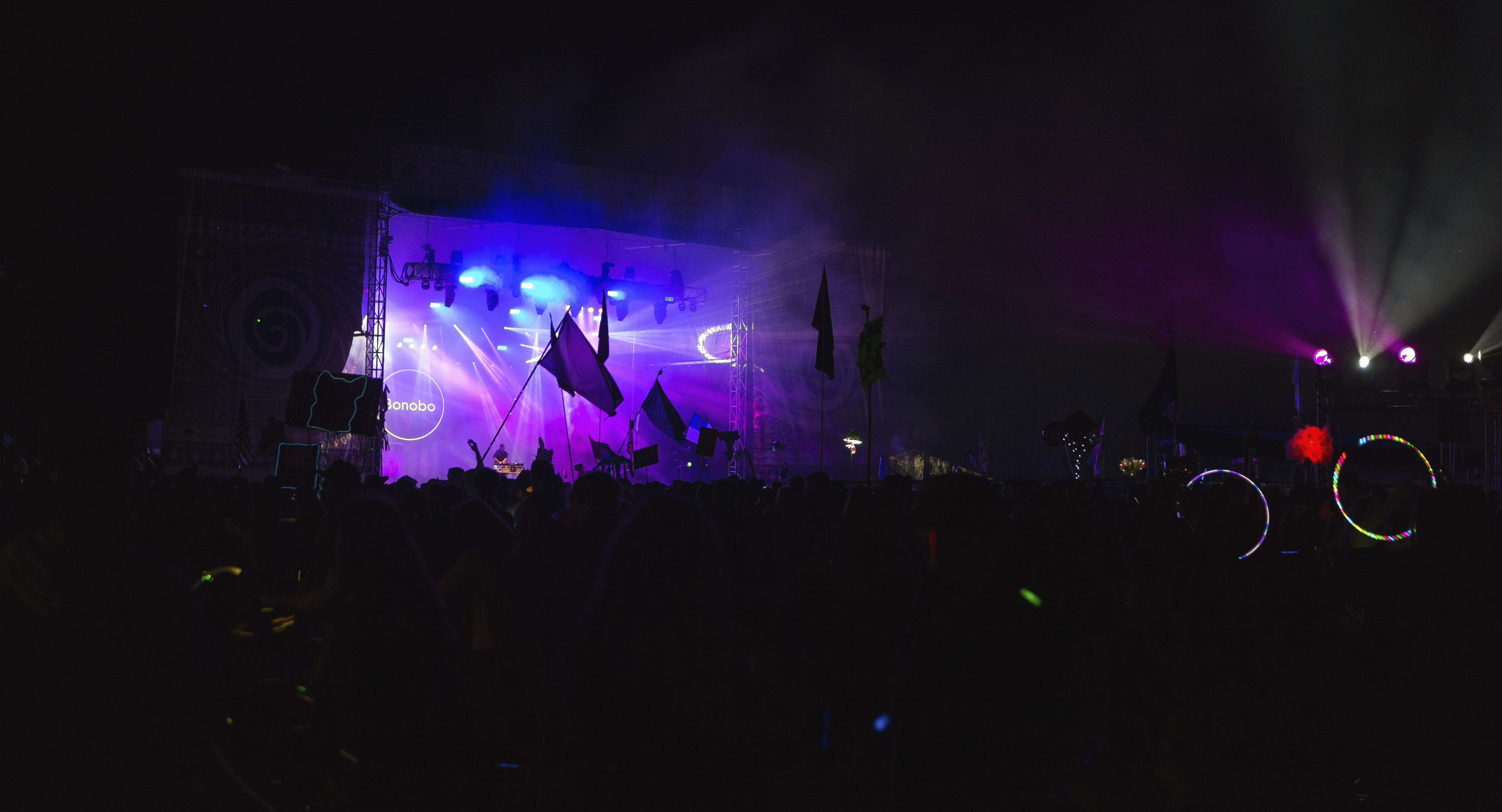 Our second day at Okeechobee brought discovery of new music, plenty of neon lights, and our first glimpse into a PoWow. Depending on when you woke up (and how late you were out) after night one, there were very different experiences to the morning at the festival. For early birds like us, a pre-9 AM venture through the festival grounds meant seeing a few exhausted stragglers heading back to their tents for some sleep. In the distance, music could still be heard coming from Jungle 51's overnight DJ sets. For most attendees awake so early, the camping experience was in full effect with bacon cooking on portable grills & beers in hand.
If you were looking to grab a shower, the early birds definitely caught the worm. By about 10 AM you could see longer lines forming outside the shower tent, with some attendees reporting waiting an hour to get a ticket to gain admission to the showers. Coffee also became a bit of a sour point for us, as the only thing we had seen the day before was a Bearclaw Coffee truck located inside The Grove, which didn't open its gates until 11:30 or so. We did have a festival employee inform us there was a second Bearclaw Coffee truck open down by Aquachobee, but after 9 AM, that line was over 100 people long as well. The most prepared campers came with a Mr. Coffee in tow, something already on our must-have list for next year.
9 AM seemed to bring out the rest of the early risers into the Chobeewobee Village: a collective of vendor tents, food trucks, art installations and smaller musical acts including several string ensembles. Beside the village was a tent for Yoga Chobee, where some of the best yoga instructors we've seen led classes as large as several hundred participants. The real beauty here came from the acceptance across all experience levels, from beginners, to couples, to expert-level yogis performing more advanced techniques than I imagined possible. While our schedule was a bit too full for spending the day in this area, classes like "Dance Alchemy" led by Camille Imilse Arroyo and "Learning How To Astral Travel" led by David Rodriguez definitely piqued our interest.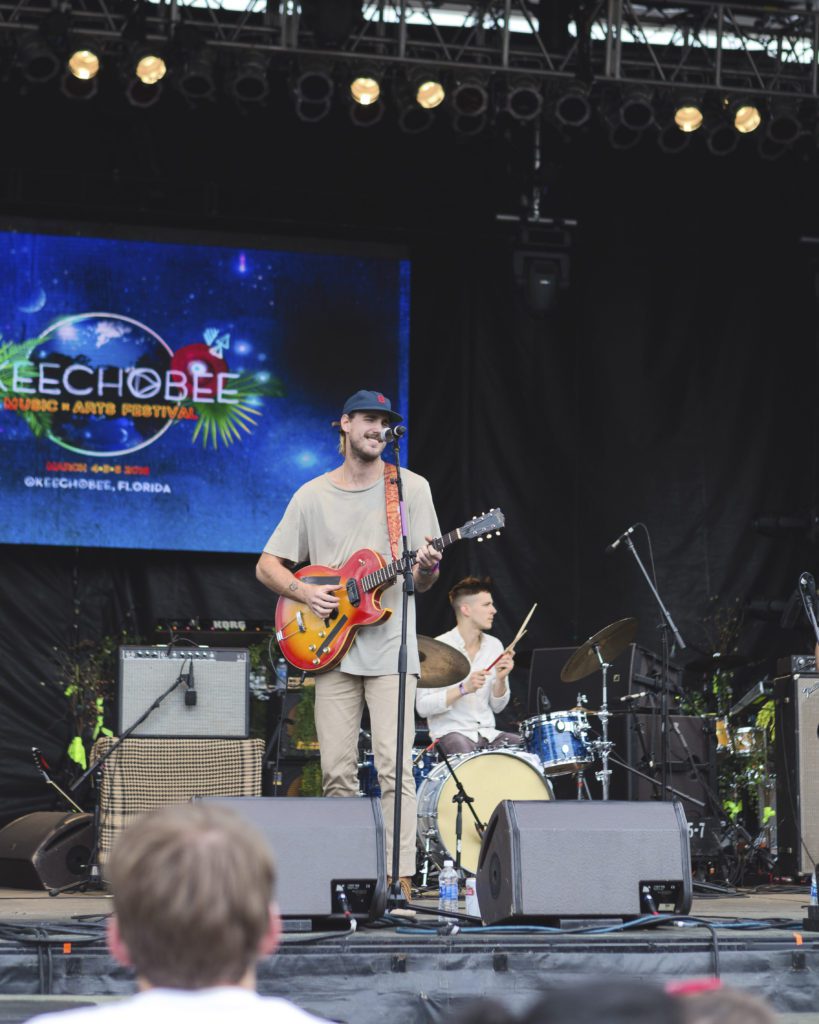 Saturday's main stages brought plenty of new music for us, particularly with some of the regulars of the large festival circuit. Kicking off the morning was Rayland Baxter, with a great blend of alt-country and just a hint of psychedelic rock. Rayland's set, despite being earlier than most attendees ventured out of their tents, drew out some very dedicated fans. His interactions during and after his set showed why: two-way conversations with the audience between songs and thirty solid minutes after his set taking photos and chatting with anyone he could. It was great to see that kind of dedication and direct connection being made, something undoubtedly picked up from his home base of Nashville, TN. If you get the chance, we'd recommend checking out his song "Olivia" if you lean more toward the country/folk side of the spectrum, or "Mr. Rodriguez" if you're looking for something a bit more rock driven.
Continuing our morning of new finds were Givers, an indie pop band from Lafayette, LA, with roots in so many different styles of music it was hard to count. While they were a new find to us, they've actually been on the music scene since 2008, and have been on huge stages for Coachella, Lollapalooza, and even had a song featured on Glee. Did we just completely miss the boat on this one? Maybe. These guys (and gal) have got their performance chops locked in though. Watching singer, Tiffany Lamson, switch between percussion, synth & guitar, all while digitally processing her vocals was mind-blowing. From a studio perspective, we know how long it can take to make those edits perfect while mixing. I can't imagine doing it in real-time at every show, but she made it look effortless. Seriously – look these guys up if you're not already familiar. For fans of indie, synth pop, alternative, experimental, jazz, funk, rock, jam bands, and good music. They've got a sting of West Coast dates coming up before heading to Hangout Fest in May and Bonnaroo in June!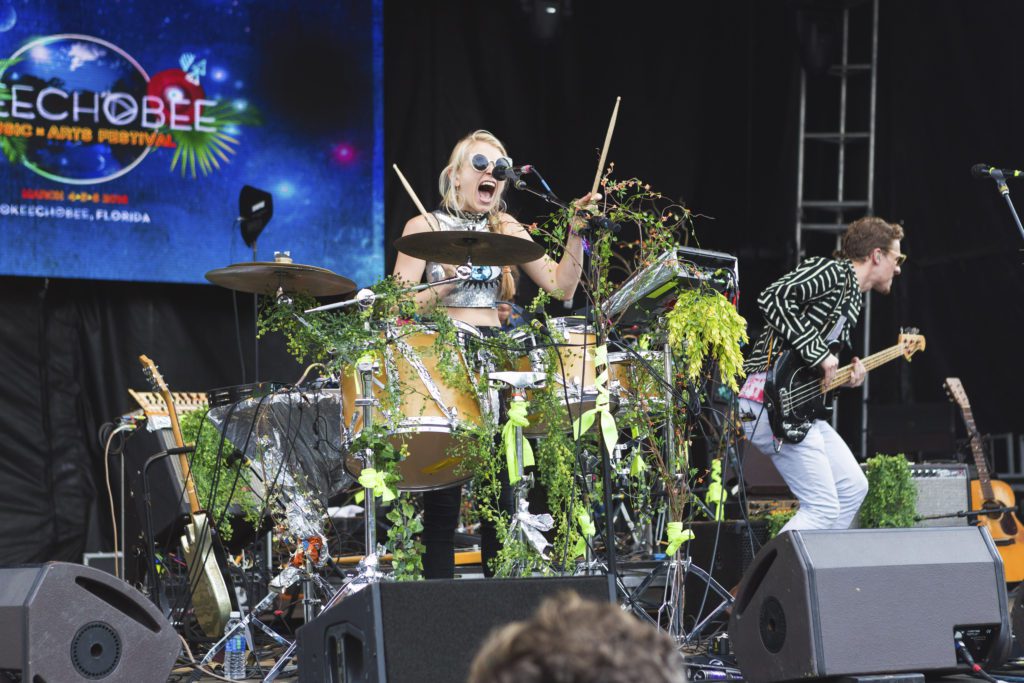 The early afternoon continued the trend of alternative/indie acts before switching over to a hip-hop & electronic crowd at night. Mac Miller played the first full house, hour-long set which evolved into 3 other guest appearances throughout the weekend. Bonobo played an enchanting set of downtempo electronica, which gave a nice change of pace to the day. The Be Stage filled up at 8 PM for Miguel's performance and stayed full throughout the rest of the night as attendees staked out their spots to catch Kendrick Lamar & Skrillex. Each of these artists had a unique appeal in their own right, and seeing them back-to-back was truly a unique experience to the Okeechobee Festival. Miguel's high-energy set was reminiscent of what you'd expect at a Prince concert, R&B with a rock twist. Kendrick Lamar's entire performance was nothing short of inspirational. Audience members were being acknowledged by Kendrick for keeping pace on even his fastest verses. Kendrick even brought one fan on stage to acknowledge that his fans are what he does his craft for, stating that his music exists for each and every fan going through a tough time.
Much like Bassnectar the night before, Skrillex brought his amazing blend of lights and sound to Okeechobee and left it all on the stage. As a first time Skrillex attendee, I was unsure what to anticipate other than something out of this world. Skrillex's set kicked right in with dubstep drops, buildups and laser lights. His set climbed and climbed; more lights, pyrotechnics, and stage antics that make you forget he's up there by himself performing. Multiple times he would climb onto the mix table coercing everyone in the audience to jump with him as the bass dropped. His energy was matched tenfold by the audience, who shouted along to all of the songs in his set. The theme of the entire weekend was summed up as his set ended: this festival is a community, a safe place surrounded by thousands of friends coming together for celebration.
As his set ended, the first PoWow could be heard coming from the Now Stage, where Miguel, Win Butler from Arcade Fire, John Oates & a dozen other performers from the weekend were expertly playing a set of cover songs. The list was all encompassing, including songs like Led Zeppelin's "Kashmir", a David Bowie tribute, Drake's "Hotline Bling", and The Clash's "Rock the Casbah" sung by Marcus Mumford, who was not scheduled to make an appearance until the following night. The PoWow concept was a jam session conceived and hand picked by the executive staff of Okeechobee Fest, and their vision could not have come to be more effectively than it did Saturday night.
Want More Okeechobee Fest?
Head on over to our Okeechobee Music & Arts Festival Headquarters to see everything from the festival. We've got a Day 1 Recap up as well, with some of our favorite experiences from 2016, including our thoughts on Bassnectar's ground-rattling set. If you're more interested in listening to your favorite artists from the festival, we've got free Okeechobee Fest Playlists. We also spent all weekend taking pictures of the festivities and will be continuing to share the experience with you on Instagram! Want to join the conversation? Connect with us on Twitter (@DRecordingArts); we love chatting about artists, experiences & thoughts for next year's festival!